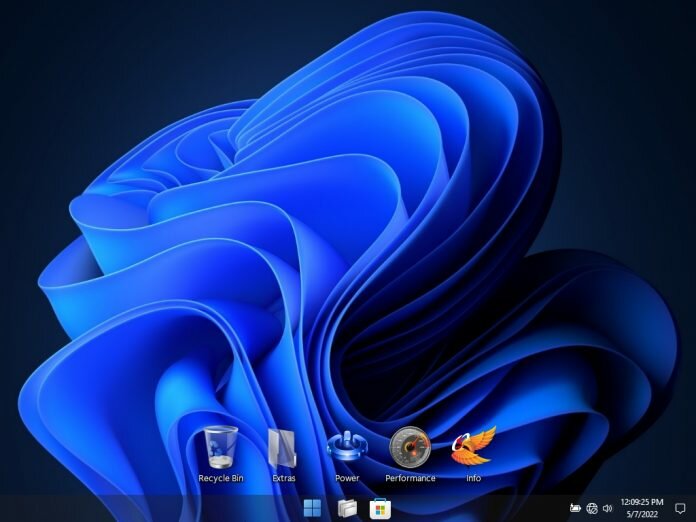 Phoenix LiteOS 11 Pro Plus – Windows 11 v22H2 build 22616.1 – Compact – Lite
Tải về Phoenix LiteOS 11 Pro Plus (22616.1) – Windows 11 v22H2 ✯ Compact ✯ Lite ✯ Gaming ✯ Updatable by FBConan là bản dựng Windows 11 v22H2 build 22616.1 từ kênh DEV & BETA mới nhất. Bản dựng được tùy biến và tối ưu hóa tốt nhất cho người dùng để trải nghiệm Windows 11 v22H2 đầy đủ tính năng.
Phoenix LiteOS 11 Pro Plus (22616.1) 
⇝ Windows 11 22H2 Pro Lite Build by FBConan
⇝ Designed to Breathe New Life Into Your PC ⇜
Multi Edition ISO
Multi Language Support!
Updates Paused Until 2099!
Selective File Compression During Setup!
Extreme Performance for your Apps and Games!
Bypasses TPM, Secure Boot, RAM, CPU, and Storage Checks!
Bypasses Microsoft's Forced Account Creation during Setup / Installation!
Tính năng của bản dựng
• Now is the perfect time to start exploring Microsoft's Windows 11 Insider Preview Builds of Version 22H2!
• Windows 11 version 22H2 Insider Preview builds are now released without an expiration date!
• Microsoft has also removed all watermarks from the desktop, that were present in previous 22H2 Builds.
• Microsoft has also moved Windows 11 version 22H2 Insider Preview Builds to it's Beta Release Channel.
Multi Edition ISO With Selective Compression During Setup! –
• Removed Features Include – Cortana, Edge, Some UWP Apps.
• Disabled Features Include – Defender, BitLocker Service, Smart Screen, Widgets, Error Reporting, UAC, Ads, Telemetry, Hibernation, Power Throttling, Automatic Maintenance and Download Blocking.
• Multi Edition ISO – Gives you the choice to install this build with our without File Compression. The Compact Edition takes longer to install, but takes up less space, and runs a little lighter.
• Performance Prioritized – This build has been designed for Maximum Performance, Responsiveness, and Resource Savings.
• Build / ISO Authored by FBConan.
Hướng dẫn cài đặt
• Use Rufus ONLY to write the ISO to a USB Drive.
• Boot from USB Drive, and Perform a Clean Installation to your desired partition.
• Requires 2GB RAM, and 8 GB Storage Space.
• Activator included in Torrent if Required!
👉 More Info About This Build:
Since Microsoft decided to revert the Taskbar to the same one used in Windows 11 21H2 Builds starting with this 22H2 Build, StartAllBack isn't fully supported, and sometimes the taskbar icons, will disappear (depending on performing certain tasks). If this happens during your use, to make them appear again, you simply have to hover your mouse over the taskbar, where they should be appearing, and they will appear again.
I'm sure a future version of StartAllBack will fix this minor bug with this particular build, or, you can simply disable 'enhanced classic taskbar' in StartAllBack's settings, and use the default Windows 11 taskbar, to avoid this issue for the time being, if it is bothersome in your use.
 After working with 22H2 Insider Preview Builds, I noticed they have some new services, that are unfortunately required to run for Windows to work properly, which means Windows 11 22H2 will not run as light as 21H2, and even some of the new UI changes, such as the new Task Manager, consume more resources than the previous 21H2 version of Windows 11. This means, if you are looking for the lightest running builds of Windows 11, 21H2 would be better suited for your needs!
That being said, I was able to get this build running a little lighter than my previous 22610.1 custom lite build, through more extensive testing.
 You can enable the BitLocker service through services.msc if you would like to use BitLocker in this build.
 Please note, after initial installation, when you open Notepad or Paint App, you might get a cannot open error, just open the App again to fix the issue, and it won't happen again. This is normal behavior in my Windows 11 Custom Lite builds.
 To be able to update this build, you have to join the Insider Program, through the Update Section in the Windows Settings App! To become an insider in Windows 11 builds, your PC must meet the minimum requirements! (ie. – CPU, RAM, TPM 2.0, Storage, Secure Boot).
Screenshot
✨ We Highly Recommend you download and install DX9 and VC++ Runtimes from our Downloads Page
​✨For AMD Ryzen Powered PC's, please download the latest Chipset Drivers from our Downloads Page
✨ It may take a minute or two for the latest Chipset Software to Load, but be patient, and it will work without issue.
✌ Thank you everyone for your Support and Feedback!
Tải về Phoenix LiteOS 11 Pro Plus – Windows 11 v22H2 (22616.1) by FBConan
Tổng dung lượng file là 2.4GB
Pass giải nén file là 

phoenix
LƯU Ý
Lưu ý : Tất cả các file download nếu có mật khẩu giải nén sẽ là baominh.tech hoặc sbz hoặc 123
"Các phần mềm tải về chỉ để dùng thử / giáo dục và phi thương mại." 




"Nếu bạn thích phần mềm này, vui lòng mua Giấy phép Chính hãng từ Trang web Chính thức."
Vui lòng tắt các công cụ chặn quảng cáo để có thể download được file từ trang download.baominh.tech.
Rất mong bạn thông cảm, quảng cáo là nguồn thu duy nhất của website để hoạt động, vì thế mong bạn thông cảm khi sử dụng website có quảng cáo.
Do website cập nhật rất nhiều phần mềm nên để tìm nhanh hãy gõ tên phần mềm hoặc nội dung cần tìm vào ô tìm kiếm để tìm nhanh hơn !
Hướng dẫn tải file dạng Torrent xem tại đây
Nếu link bị hỏng vui lòng để lại bình luận Admin sẽ fix link
Ngoài để giảm tải cho web baominh.tech Admin sẽ cập nhật các phần mềm tiện ích trên web windowslite.net mong các bạn ủng hộ…
Nếu phẩn mềm nào đó thật hữu ích cho bạn hãy ủng hộ ly cafe nhá.
Thông tin ủng hộ nhấn vào đây
Nhận bản tin từ web để cập nhật các phần mềm mới nhất qua Email.
Để cập nhật thông tin các phần mềm mới nhất từ website.